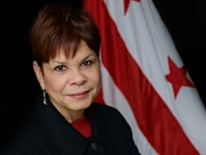 Brenda Donald became deputy mayor for Health and Human Services for the District of Columbia on January 2, 2015. In this role, she is charged with making sure that residents of all ages receive the services they need to lead healthy and productive lives in the District of Columbia.

Deputy Mayor Donald joins the Bowser Administration after three-years as director of the DC Child and Family Services Agency (CFSA) where she was widely credited with accelerating the District's ongoing child welfare reform and establishing a host of performance improvements. Within her first two months, she established a strategic agenda known for as the Four Pillars that has focused the District child welfare system on improving outcomes for children, youth, and families. For example, when placement with relatives became the first choice for children entering foster care, the rate of kin placement climbed from 14 percent to 26 percent, an increase of 86 percent. Meanwhile, use of best practices in addressing reports of child abuse/neglect and increased support for families helped to reduce the number of District children in foster care from about 1,800 at the start of FY12 to about 1,000 today.

This marks the second time Donald has gone from leadership of CFSA to a deputy mayor position in the District. She originally joined CFSA shortly after the District elevated the child welfare function to a cabinet-level agency, serving as the agency's first chief of staff from 2001 until April 2004. She was agency director until July 2005, and then served as DC deputy mayor for Children, Youth, Families, and Elders until December 2006.

Donald has over 25 years of senior management experience in the public and non-profit sectors. Before rejoining CFSA, she was vice president of the Center for Effective Family Services and Systems at the Annie E. Casey Foundation, the nation's largest organization solely dedicated to improve the lives of vulnerable children and families. In that role, she oversaw programs that promoted improvements in public systems such as child welfare and juvenile justice with a focus on expanding evidence-based best practices.

As secretary of the Maryland Department of Human Resources from 2007 to 2010, Donald was responsible for designing and implementing two major systems reform agendas: Place Matters, a comprehensive overhaul of the state's child welfare system, and MD RISE, a workforce development initiative for welfare and child support customers. In 2010, the Maryland Daily Record named Donald one of Maryland's Top 100 Women.

Before joining CFSA in 2001, Donald served for five years as vice president for Municipal Programs at DC Agenda, a nonprofit organization that supports community building and government reform efforts in DC. Major accomplishments included developing the first DC Citizen's Scorecard and creating the Cafritz Awards for Distinguished District Government Employees. During a decade in Little Rock, AR, she was promoted from chief of staff for the City Manager to assistant city manager. She completed training for Senior Executives in State and Local Government at the John F. Kennedy School of Government, Harvard University. In 1995, she was selected as a fellow in the Annie E. Casey Foundation's Children and Family Fellowship Program.

Donald grew up in District Ward 8. She holds a BA in Journalism with honors from George Washington University and an MPA from the University of Arkansas.