Free family festival features city vehicles and activities for children of all ages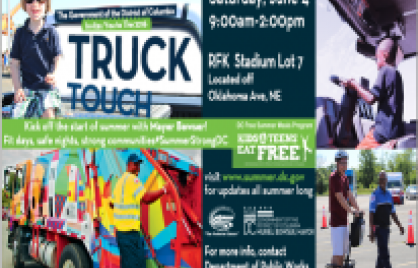 Mayor Muriel Bowser invites the public to attend the annual summer kick off and citywide "Truck Touch" Saturday, June 4, 2016, from 9 am to 2 pm at RFK Stadium, Lot 7. The event will feature a variety of free activities for kids and adults. A host of DC government agencies will present and demonstrate nearly 30 vehicles used to clean and repair streets, change traffic lights, collect refuse, clear snow, provide emergency services, administer mobile health care, and more. Free boxed lunches will be provided to kids age 18 and under.
The District's Citywide Truck Touch features vehicles from the District departments of Public Works, Transportation, Health, Employment Services, Parks and Recreation, Fire and Emergency Medical Services, Homeland Security and Emergency Management Agency, the Metropolitan Police Department, and the DC Water and Sewer Authority. Other agencies will also be available to provide direct services and disseminate information about other DC government agencies. Free, boxed lunch will also be offered to children and teens by the Office of the State Superintendent for Education to heighten awareness of the DC Free Summer Meals Program, funded by the US Department of Agriculture.
WHO: Mayor Muriel Bowser
WHAT: Kicks Off Annual City-Wide Truck Touch
WHEN: Saturday, June 4, 2016, from 9:00 am-2:00 pm
WHERE: RFK Stadium, Lot 7 (2400 East Capitol Street, SE - drivers should enter off of Benning Road, NE)