The District of Columbia is focused on making homelessness rare, brief and non-recurring. To learn more about the District's comprehensive plan to address homelessness, please view the District's Homeward DC plan here. Because this level of system transformation will take some time, the District has in the meantime established a protocol for addressing encampments. The Office of the Deputy Mayor for Health and Human Services advocates for the health and well-being of all constituents of the District of Columbia; this includes people experiencing homelessness. As such, our protocol for cleaning public spaces is triggered when a site presents a security, health, or safety risk, and/or interferes with community use of such places. With this in mind, we provide resources to shelter, pathways to housing and access to behavioral health services to individuals at these locations.
To learn more about our protocol and clean up process, please see the attached FAQ. For information about how we're operating during the COVID-19 public health emergency, please see the attached FAQ. For more information about the District's Encampment Pilot, please see the attached FAQ. For information from the DC Department of Human Services (DHS) about voucher utilization, please visit their website linked here.
For more information about the Winter Plan and services available to people experiencing homelessness during hypothermia season, please see the attached information sheet.
To report an encampment, please send a detailed description to [email protected].
---
CARE Pilot Program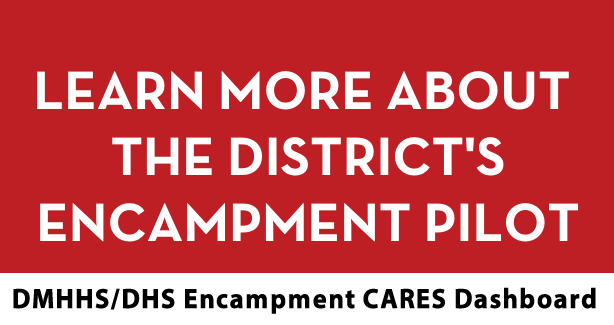 If there's one thing that the COVID pandemic has taught us, it's that we're all in this together. Often times the most complex of issues call for an all-hands-on deck approach. This is certainly the case for our unhoused neighbors living in encampments which is why we are trying a new method of providing intensive onsite service delivery to meet people where they are. While our teams have worked tirelessly in the field to provide residents with services throughout the entire pandemic, it is important to recognize that sometimes a new approach is needed as new insights are gained. Mayor Bowser has launched a new pilot initiative at 3 of the District's largest encampments to provide intensive onsite case management and behavioral health/substance support during one of the most critical transitions of their lives: moving from unstable living conditions into viable affordable housing. Mayor Bowser's continued investment in this space is unmatched across the country. The District has recognized the evidence-driven approach of a housing first model to address the complexities of the behavioral health and substance support sometimes needed for our neighbors experiencing homelessness. Housing first is a model that does what its name suggests it focuses on housing people first, then providing wrap-around services to address the issues they are facing. In a similar manner, the encampment pilot meets people where they are providing intensive onsite case management while people are living in unstable conditions and simultaneously facilitates connecting with housing providers.
Additionally, DMHHS and DHS have collaborated to create a statistical dashboard to provide weekly updates on service engagement and the housing navigation process of identified residents on the By-Name-List residents located at each site. Please click the link below to view the C.A.R.E. Pilot Statistical Dashboard.
DMHHS/DHS Encampment CARES Dashboard
For the encampment pilot informational sheet, please see the attached one pager here. For frequently asked questions, see the attached document here.
---
What is an Encampment?
An encampment is defined as a set-up of an abode or place of residence of one or more persons on public property or an accumulation of personal belongings that is present even when the individual may not be.
What is not an Encampment?
Set up of an abode on private or federal property. The District only has jurisdiction over District Government property.
Gatherings of individuals during the day that have not set up an abode.
Individual(s) that sleep at a location but have not set up living quarters and take their belongings when they leave.
Panhandlers. Please note that panhandlers also may not be experiencing homelessness.
What is the Timeline for an Encampment Protocol Engagement?
Encampment protocol engagements are a cross-agency effort. Once the Office of The Deputy Mayor for Health and Human Services receives a report, the Department of Human Services and Department of Behavioral Health conduct outreach, engage residents about services, and complete a formal encampment assessment. If the location is determined to be an encampment, the District's encampment protocol is enacted. This includes 14 days written notice of the encampment protocol engagement and increased engagement by the outreach teams, including staff from the Department of Public Works, the Metropolitan Police Department and agencies under The Office of The Deputy Mayor for Health and Human Services. After an emcampment protocol engagement takes place, outreach teams continue to monitor the area and ensure residents are connected to services.
Encampment protocol engagements are not conducted in inclement weather. If an encampment protocol engagement is canceled due to weather, the signage will be updated and the encampment protocol engagement will be rescheduled.
Upcoming Encampment Protocol Engagements
Thursday, May 25 at 10am- 4th and Franklin St NE (Park)

Full Clean Up
Biohazard Removal
Site Closure (violation of the "no encamping" ordinance on District Park Property)

Thursday, June 1 at 10am- 111 K St NE

Full Clean Up
Bio-hazard Removal
Power Wash
Site Closure (excessive pedestriation passage intrusion, high level biohazard intrusion)
Reporting an Encampment
To report an encampment, call (202) 727-7973 or send a detailed description to the contacts below:
Mayor's Office of Community Relations and Services
[email protected]
Office of The Deputy Mayor for Health and Human Services
[email protected]