Featured Services
New plans to expand school health and behavioral health services.
Working to ensure that adults 50 and older are active, connected and happy in the District.
Contact the Council for information on Homelessness Services.
Health and Human Services Agencies on Twitter
Office of the Deputy Mayor for Health and Human Services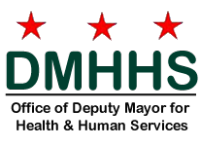 Office Hours
Monday to Friday, 9 am to 5:30 pm
Connect With Us
1350 Pennsylvania Avenue, NW, Suite 223, Washington, DC 20004
Phone: (202) 727-7973
Fax: (202) 442-5066
TTY: 711
Email:
[email protected]

Agency Performance
The challenge encourages residents to take a step into a healthier and more active lifestyle.